If a 'tsk' involuntarily comes out of your mouth when you see gallons of water pouring from a fire hydrant, you aren't alone. Many people feel the same way. The thing is, fire departments and utility companies aren't wasting the water in spite. Rather, they're doing so to make sure your home and yourself are protected. Running all of this water from a hydrant flushes the system out so potential build-up in the pines doesn't back into the public water system. It also allows for the testing of water flow when it comes to firefighting.
According to the National Fire Protection Association, the rate of flow from a fire hydrant should be equal to 20 pounds per square inch (psi) of pressure for adequate firefighting. Anything lower can cause pressure in the fire hose to be lower and, thusly, result in a reduced amount of water fed into the flames. The lower flow of water from a hydrant can also mean the build-up of rust and other minerals has gotten so bad that there may be a problem further down the line.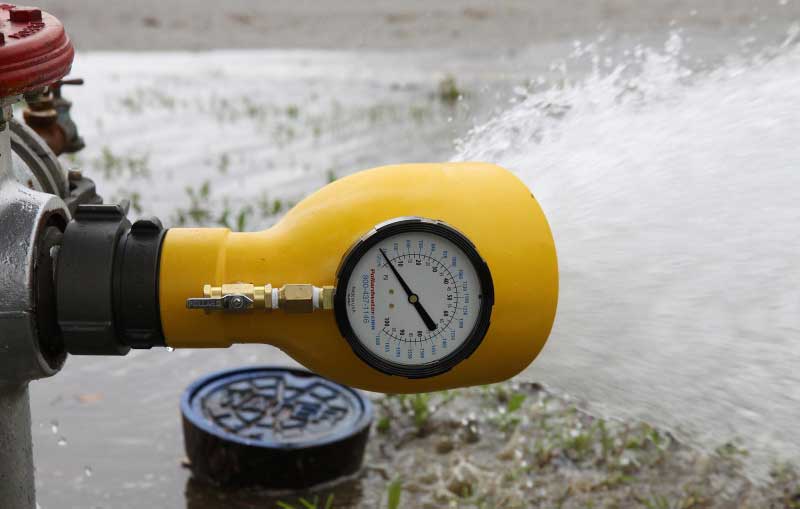 How do utilities perform fire hydrant testing? First, they use products from fire testing companies like Hurco Technologies to prepare for the test. They connect a hose attachment used for diagnostics to an area of water flow. This is connected to an assembly that is attached to a remote reader. As the hydrant's gauge cap is opened and water begins to flow, static pressure and nozzle pressure are recorded on the reader. The residual pressure is also recorded from the gauge cap. When the test is done, the amount of time the hydrant ran is recorded.
This information is then turned into technicians at both the fire department and utility ends to examine the results. If it's discovered that pressure is at least 25% lower than NFPA standards, further investigation is required. This may mean an examination of the pipes or the hydrant itself. At the point, the problem is discovered and repairs are made the hydrant is tested again.
So, the next time you see an excess of water flowing from a hydrant, hold your tsk. Instead, thank the fire department and the utility for making it one more safe water dispersement system.…